Livin On The Veg: The Ultimate Vegan Rumble
Eight street food traders, eight vegan dishes and one winner. A simple concept and great delivery. Kerb is well known on the London food scene for its pop up food markets in prime London locations from Kings Cross to London Bridge. The popular and buzzing markets allow foodies in the city to experience of-the-moment food made by fresh up and coming street food talent. Many of Kerb's brilliant trader alumni have gone on to hold permanent residences, such as hotspots Pizza Pilgrims and Bao.
Kerb's vegan rumble gave you a chance to try a vegan dish from each of their pop up vendors - including ones that don't specialise solely in vegan food - and then vote for your favourite. After trying all eight dishes and enjoying the quality and flavours, it was a very difficult decision, albeit distorted by food coma. After careful thought I voted for Petare and their Venezuelan 'chip butty.'
The event successfully crushed perceptions usually associated with vegan food. There wasn't a raw food bowl or smoothie in sight, instead there were deep fried buffalo wings, tacos and chocolate peanut butter mud pies. Finally, an event that appreciates that vegans indulge in and enjoy these foods as much as everyone else!
I personally hadn't tried any of the vendors before so it was exciting to see such a variety of vegan food and get to taste cuisines from around the globe. The event, held in Kings Cross, had a fantastic vibe and brought together a dedicated group of Londoners with one common interest - appreciation for creative vegan food.
Livin On The Veg 2017: The Food
Venezuelan 'chip butty' arepa stuffed with cassava chips, sweet fried plantain, "feta", avocado and garlic sauce.
Oh my, this was excellent and my personal favourite of the night. It hit the spot and the 'feta' genuinely tasted like feta. Go petare! This made me very excited to try more Venezuelan food.
–Thai red curry tofu and butternut squash pillows on soy sesame slaw and hom mali rice. A flavourful, aromatic and spicy curry.
@greedykhao
Fried 'chicken' slider in an agave mustard glaze. After all the raving reviews Temple of Seitan gets, it's been on my list of place to try. The agave mustard glaze was EVERYTHING. I wish I could get my hands on these delicious sliders after a night out!
Korean BBQ Bahn Mi baguette filled with crispy seitan, mushroom walnut pate, pickled carrots, parsnips and sriracha mayo.
I was quite full by the time I got on to this one but ended up eating all of it because the flavours were so good and original.
Charred makhani-smothered tandoori cauli steak with coriander chutney and homemade pickles on a grilled naan.
What is life without spice? I've always liked cauliflower but appreciate it a lotttt more since I've become vegan. The coriander chutney and cauli in this dish were a divine combo.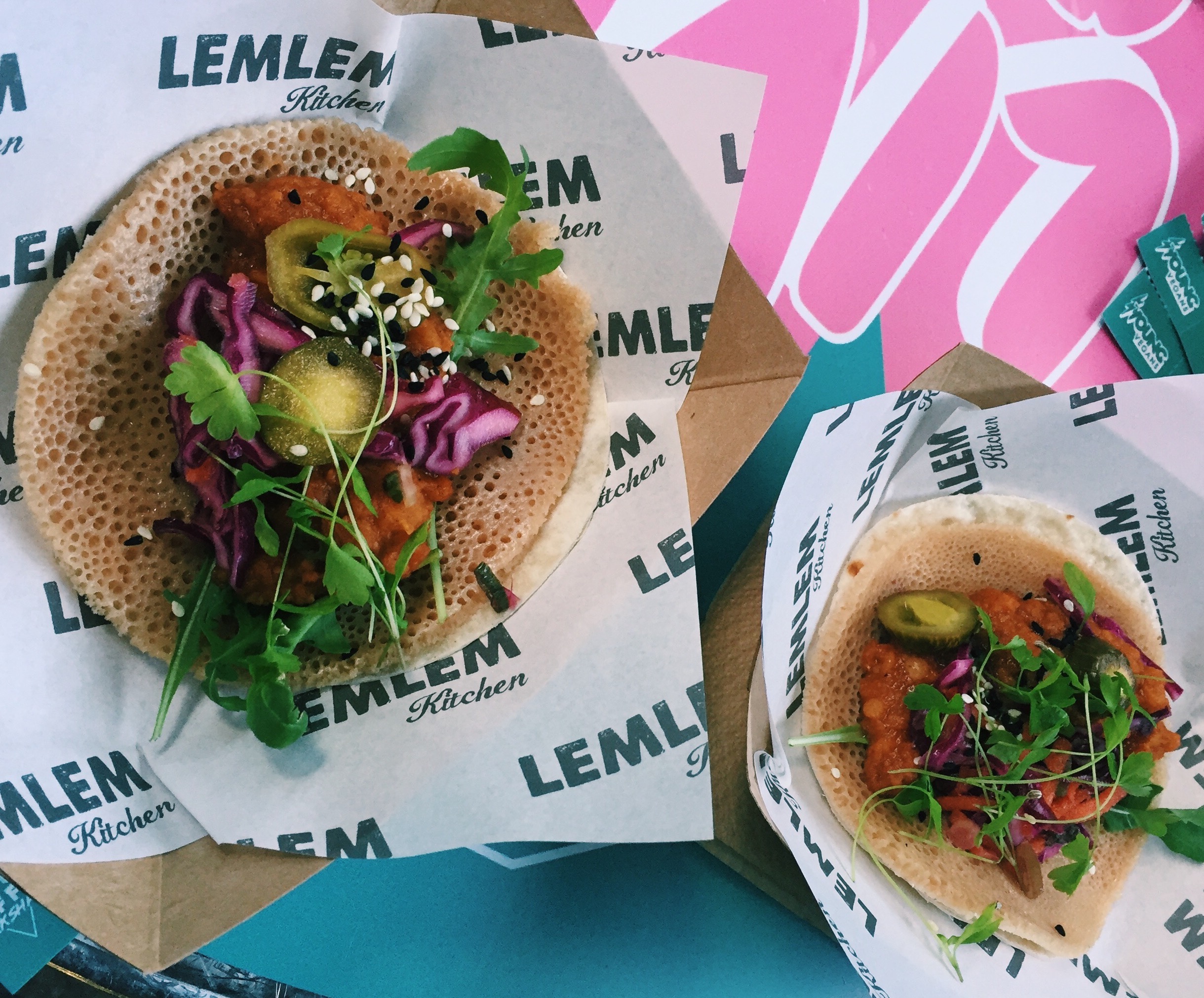 Timtimo split pea afro-taco, served on injera with a red cabbage and ginger slaw, and pickled chillies and seeds.
This was my second fave of the night. Flavour on flavour and who doesn't appreciate a mouthwatering taco!?
Double fried jackfruit buffalo wings speared on sugar cane bone with maple bourbon hot sauce, blue cheese, toasted almond kale slaw and a fresh seared peach. An imaginative idea with the use of sugar cane to resemble a wing bone.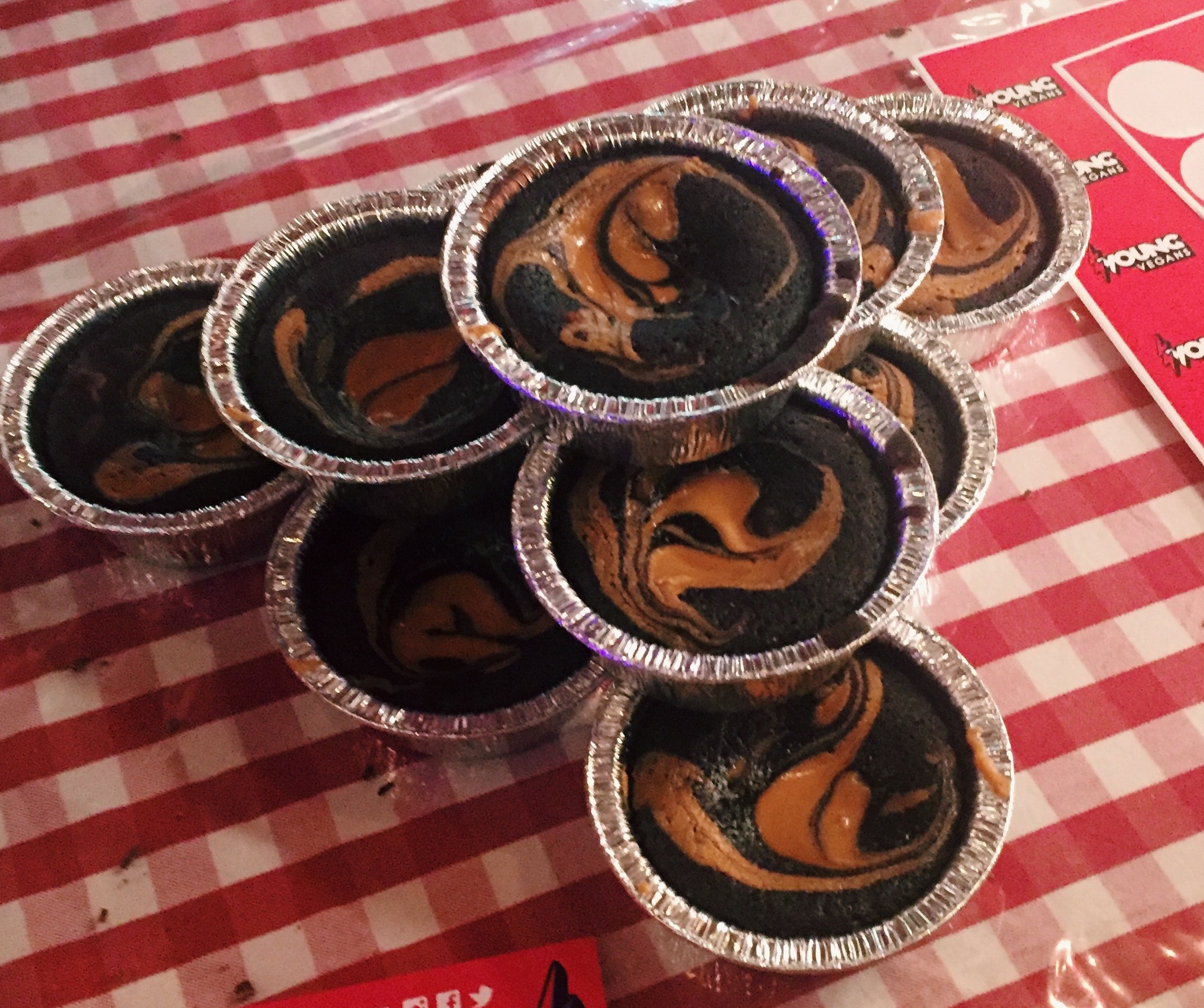 Chocolate peanut butter mud pie brownies. I felt like a child so excited to try this because I have a big sweet tooth and struggle to find great vegan desserts. I also love peanut butter and chocolate brownies. Win, win. The pie met all my expectations - warm, gooey and beautifully indulgent.
This was by far one of the best food events I've been to this year because it showcased how unique and varied vegan dishes can be. I was also impressed that street food vendors that don't usually specialise in vegan food can whip up a banging vegan butty. If this is how good vegan street food can be, I'm happy to be #livinontheveg.
Written by Reena Patel
theveggieperspective.com
@theveggieperspective
Photos: Reena Patel @theveggieperspective / Ben Holliday @benholliday